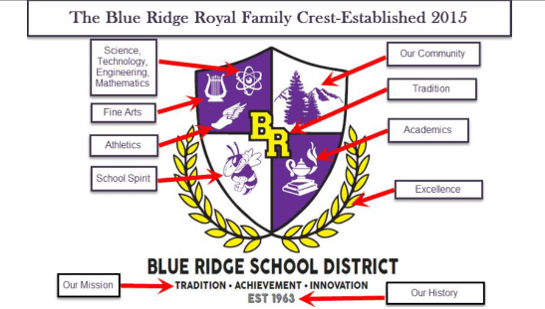 A Brief History of Blue Ridge
In 1957 the Lakeside School burned down
A new structure was built by the current Lakeside Post Office that became the new school for The Lakeside Apaches (Original "Mascot")
A member of the graduating class of 1958 (5 students) felt the mascot was inappropriate and offensive so another option was introduced (YellowJacket- 1 word)
In 1960-61 the formerly separate Pinetop and Lakeside Districts merged into Pinetop-Lakeside District #32
The student council in 1963, proposed a more sensible name to better represent both communities
The choices were a) Pine Lakes or b) Blue Ridge (the name of the mountains behind the school) With the mascots either being The Mountaineers or The Yellowjackets
On the morning of November 22, 1963, the student body voted and settled on the name Blue Ridge Yellowjackets. As they stood to leave, they were told that President Kennedy had been shot.
The entire school came together on that day to support each other through one of the darkest days our Nation has seen...and with that spirit, The Blue Ridge Community rose to forge a true tradition of EXCELLENCE in every pursuit.

What Do the Symbols on the Crest Represent?
The Classical Greco-Roman Wreath (Laurel)

The Winged Foot of Hermes